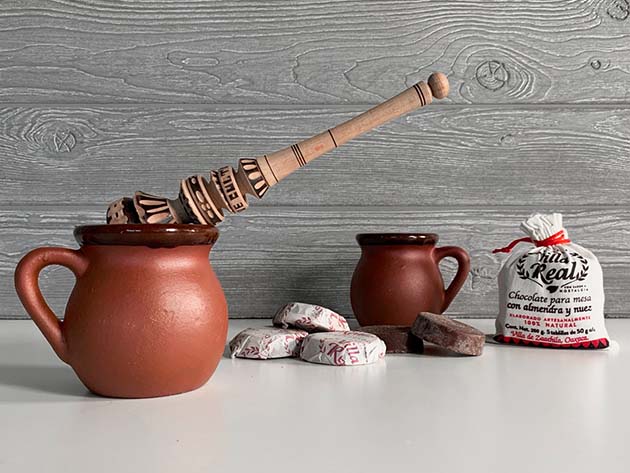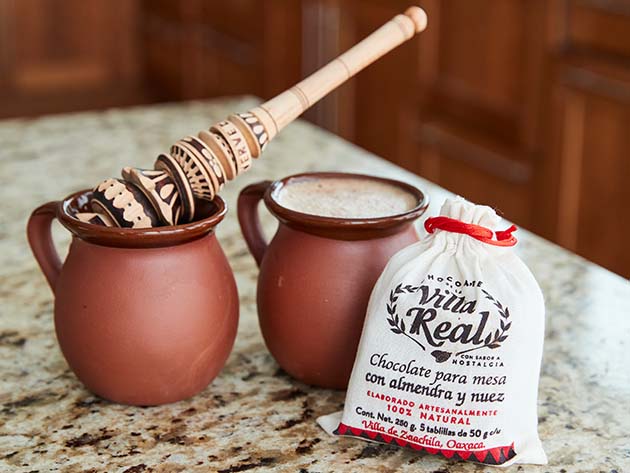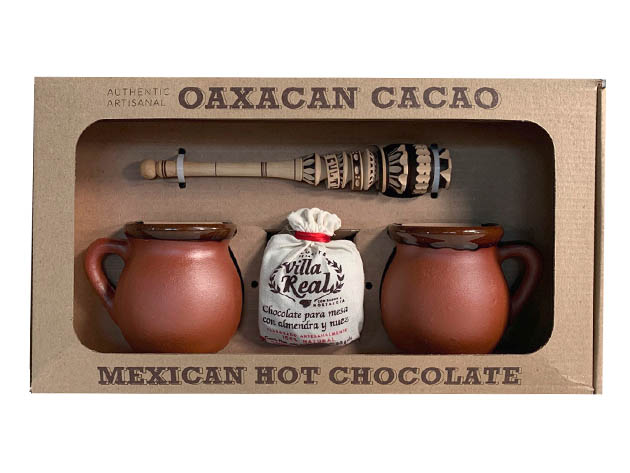 Mexican Hot Chocolate Gift Set
by Verve Culture
Make Authentic Mexican Hot Chocolate at Home with This Ceramic Mug, Almond Chocolate & Small Molinillo Whisk Set
Description
To make authentic Mexican Hot Chocolate, you need traditionally made chocolate, a hand-carved molinillo, and the perfect ceramic mug to drink it out of. Luckily, you can get everything in this Mexican Hot Chocolate Gift Set. By using everything in our Mexican Hot Chocolate Gift Set, your rich, complex-flavored, smooth hot chocolate drink will retain the unique aroma and nostalgic taste enjoyed for generations.
Villa Real Mexican Hot Chocolate with Almonds
Created in Oaxaca using a traditional recipe
Made with simple ingredients of cocoa butter, sugar, almond & other nuts and spices
A bag of 5 tablets (250g) mix with milk or water to savor the best tasting hot chocolate
Clay Mugs
A staple in Mexican kitchens
Preferred for the unique flavor it lends to food
Handcrafted jug made with ancient hand-molding techniques from the past
Finished with new techniques to be functional & decorative
Small Traditional Molinillo Whisk
Handcrafted out of natural alder wood with one-of-a-kind details burned into each whish
Quickly move the molinillo back & forth between the palms of your hands and the wooden rings and holes will mix the chocolate up while creating a cloud-like froth
10" version can be used right inside the mugs, or in a saucepan for larger batches
NOTES:
All items in this collection are handmade by artisans in Mexico.
Do not put the mugs or Molinillo in the dishwasher - hand wash only.
Certified lead-free.
Specs
Specs
Color: brown
Almond Chocolate

Ingredients: Cocoa butter, sugar, almond, nuts & spices
Size: 250 g
100% natural
Vegan
Allergen statement: include nuts

Clay mugs

Materials: clay
Dimensions: approx. 4"D x 4"T
Capacity: approx. 14oz
Hand-crafted
Perfect for hot & cold drinks
Handwash only

Molinillo Whish

Materials: wood
Size: small
Dimensions: 9"-10"
Handmade
Turned & carved out
Intricate piece

Made in Mexico
Traditional
Includes
2x Clay Mugs
5x Disk Almond Chocolate
Small Molinillo Whisk
Shipping
Ships to Contiguous US
Expected Delivery: Aug 16 - Aug 21